The Graduates
Mick Morris & Eamonn Moran
Lively, fun, quality duo, with a huge repertoire ranging from Beatles, Rolling Stones, Bob Dylan to Crowded House, Coldplay and Kings of Leon and many, many more. We have a full program of Irish, Country and even Swing, as well as all the popular hits from the past four decades. Perfect for your Wedding, Drinks Reception, House Party, Club or any event where good lively music is needed to set the mood.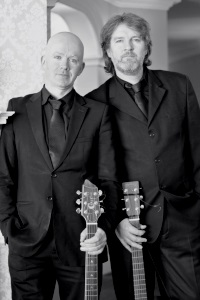 Customer Comment
"Just a note to say thank you to yourself and Mick -The Graduates- for helping to make my husband's party a great success. The music was exactly right for the occasion and many people commented on how good you were. It seems to me you can play anything. I wanted fun to be the main focus for the evening and the music certainly added to this. People were up dancing and singing along for most of the night. People who were known never to dance, danced."
Range of Artists Covered:
Bob Dylan, Neil Young, The Killers, Kings of Leon, CCR, The Band,The Pretenders, Paul Weller, Simon and Garfunkel, The Beatles, The Rolling Stones, Squeeze, The Dubliners, Christy Moore, Ray Charles, Radiohead, REM, Coldplay, Fleetwood Mac, Crosby Stills and Nash, Oasis, Paulo Nutini, Mumford and Sons, Prince, Johnny Cash, Foo Fighters, Crowded House, Bob Marley, David Bowie, The Monkees, Marvin Gaye, The Eagles, John Lennon, The Pogues, Eric Clapton, Pink Floyd, Rod Stewart, Paul Brady, The Kinks… and many more!
Setlist samples:
You do something to me
Hallelujah
Big Yellow Taxi
Losing my religion
One I love
Teenage Dirtbag
Black and gold
Handle Me With Care
End of the line
Won't Back Down
Mary Janes last dance
Breakdown
Sex on fire
Use somebody
Fans
Mr Brightside
Basket Case
Good riddance
Boulevard of broken dreams
Welcome to paradise
The weight
Shape I'm in
Cripple Creek
Accadian Driftwood
Moondance
And it stoned me
Gloria
Bright side of the road
Sweet thing
Brown eyed girl
Baby tonight
To make you feel my love
Don't think twice it's alright
Simple twist of fate
Like a rolling stone
Knockin on heavens door
Lay lady lay
The times they are a changin'
If you gotta go
Harvest moon
Tell me why
Cinnamon girl
Hurricane
Heart of gold
Sonnet
Keep my customers satisfied
Slip sliding away
Me and Julio
Loves me like a rock
Only living boy in new york
Call me Al
Heard it thru the grapevine
Have you ever seen the rain
Down on the corner
Up around the bend
Take it easy
Peaceful easy feeling
Take it to the limit
Heartache tonight
Blackbird
All you need is love
I will
I feel fine
Lady Madonna
Saw her standing there
Twist and Shout
Hide your love away
With a little help from my friends
Hey Jude
Let it be
Something
I just seen a face
While my guitar gently weeps
Imagine
Here comes the sun
Last time
Not fade away
Sympathy for the devil
You cant always get what you want
I'm a believer
Daydream Believer
Pleasant Valley Sunday
Different Drum
Redemption song
I shot the sheriff
Is this love
Three little Birds
No woman no cry
Four seasons
Weather with you
Pineapple head
Don't dream it's over
Where the streets have no name
Back on the chain gang
Everlong
Learn to fly
Ziggy Stardust
Ashes to ashes
Folsom prison blues
Ring of fire
Never take the place of your man
Purple Rain
Crazy
Up the junction
Labelled with love
Valerie
Come up and see me
Peggy Sue
When I ruled the world
Yellow
The cave
Little lion man
Californication
In the middle
New shoes
Blister in the sun
Go your own way
I don't wanna know
Here comes the sun
Dancing in the moonlight
Drift away
Georgia on my mind
Wild world
Horse with no name
Ventura highway
Sandman
Champagne supernova
Don't look back in anger
She's electric
Wonderwall
Half the world away
Cigarettes and alcohol
Some might say
One
Mrs Robinson
Now that I found you
Land down under
Fishermans Blues
Bang on the ear
Medicine Bow
A man is in love
Whole of the moon
Crazy Dreams
Nothing but the same old story
Be mine
Sail away
Easy
Sunny afternoon
Waterloo sunset
Days
Lola
Happy together
My girl
Feel A Whole Lot Better
Dock of the bay
Hard to handle
The Joker
Fly like an eagle
Keep on rockin me
Handbags and gladrags
Revolution
Summer breeze
Fire and rain
Old 55
Stuck in the middle
Over the Hill
May you never
I drove all night
Lay down Sally
Nobody knows you when you're down and out
Layla
Before you accuse me
To love somebody
It doesn't matter
Peggy sue
Wild world
I Wanna be sedated
Walking on the moon
Dancing in the dark
Hungry heart
There she goes
1979
Fall at your feet
Trad and Folk
Raggle taggle gypsy
The rare oul times
Joe Hill
Monto
Lakes of Pont Chartrain
The Mero
Wind that shakes the barley
Botany bay
Raglan road
Dirty oul town
Red rose cafe
Leaving of liverpool
Black is the colour
Spanish lady
Waltzing matilda
Gypsy Davy
First of may
Star of the county Down
Scorn not his simplicity
Hey day
The town I loved so well
Irish rover
The auld triangle
When you go away
Sam hall
Spancill hill
Bang on the ear
Ride on
Ordinary man
Acadian driftwood
Wild rover
Craic was 90 in the Ilse of Man
Simple twist of fate
Sylvest
Crazy dreams
Dicey
Nothin but the same old story
Farewell to Carlingford
Streets of New York
Sally McLennanne
All for me grog
I useta to lover
Rainy night in Soho
Seven drunken nights
A man is in love
Black velvet band